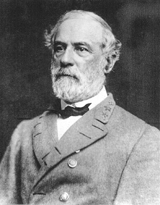 Robert Edward Lee was born on January 19, 1807, at "Stratford" in Westmoreland County, Virginia. He was the fifth child born to Henry "Light-Horse Harry" Lee and his second wife, Ann Hill (Carter) Lee. He grew up in an area where George Washington was still a living memory. Robert had many ties to Revolutionary War heroes.
Educated in the Alexandria, Virginia, schools, he obtained appointment to West Point in 1825. In 1829, Robert E. Lee graduated second in the class without a single demerit against his name. He was commissioned a brevet 2nd Lieutenant of Engineers.
On June 30, 1831, he married Mary Ann Randolph Custis. They had seven children. All three of their sons served in the Confederate army. George Washington Custis and William Henry Fitzhugh ("Rooney") attained the rank of Major General and Robert E. Lee, Jr., that of Captain. The latter served as a private in the Rockbridge Artillery at the Battle of Antietam.
During the Mexican War, Robert E. Lee was promoted to Colonel due to his gallantry and distinguished conduct in performing vital scouting missions.
In 1852, he became Superintendent of the Military Academy. In 1855, Secretary of War Jefferson Davis transferred Lee from staff to line and was commissioned Lieutenant Colonel 2nd Cavalry. He was then sent to West Texas, where he served from 1857-1861. In February of 1861, General Winfield Scott recalled Lee from Texas when the lower South seceded from the Union.
Politically, Robert E. Lee was a Whig. Ironically, he was attached strongly to the Union and to the Constitution. He entertained no special sympathy for slavery.
When Virginia withdrew from the Union, Lee resigned his commission rather than assist in suppressing the insurrection. His resignation was two days following the offer of Chief of Command of U.S. forces under Scott. He then proceeded to Richmond to become Commander-in-Chief of the military and naval forces of Virginia. When these forces joined Confederate services, he was appointed Brig. Gen. in the Regular Confederate States.
Lee returned to Richmond in March of 1862 to become military advisor to President Davis. Whenever he had a plan, General Lee took the initiative and acted at once. Cutting off supplies and reinforcements executed by Jackson at Seven Pines was a successful Confederate venture. He also stopped McClellan's threat to Richmond during the Seven Days Battle (June 26-July 2, 1861). At the Battle of Second Manassas, Lee defeated Pope. At the Battle of Antietam, his Northern thrust was checked by McClellan; however, he repulsed Burnside at Fredericksburg in December of 1862. In May of 1863, Gen. Lee defeated Gen. Hooker at Chancellorsville, but was forced onto the strategic defensive after Gettysburg in July. On April 9, 1865, Lee surrendered to Ulysses S. Grant at the village of Appomattox Court House.
After the surrender, Lee returned to Richmond. He assumed the presidency of Washington College (now Washington and Lee University). His example of conduct for thousands of ex-Confederates made him a legend even before his death on October 12, 1870. General Robert E. Lee is buried at Lexington, Virginia.
Content Provided By:

Robert E. Lee
Robert E. Lee
1807-1870, Virginia
Lee, a member of a prominent Virginia family, was the son of "Light Horse Harry" Lee, a hero of the American Revolution. His older brother, Sydney Lee, served as commandant at Annapolis, commanded Commodore Perry's flagship in the Japan expedition, and later served in the Confederate Navy. Robert graduated from West Point in 1829, second in his class of forty-six. He then served at various forts along the east coast before being assigned chief engineer for the St. Louis, Missouri, harbor. During the Mexican War Lee served on the staff of General Winfield Scott in the Vera Cruz expedition, receiving in succession the brevets of major, lieutenant colonel, and colonel. After the war Lee returned to supervise construction of fortifications until appointed superintendent of West Point, a position he held from 1852 to 1855. Later he was transferred from the engineer corps and assigned as lieutenant colonel of the 2d Cavalry. In late 1859 the abolitionist John Brown made his raid on the U.S. arsenal at Harper's Ferry; Lee, on leave in Washington, was sent with a force of marines from the Navy Yard to capture the raiders. In early 1861 Lee was promoted to colonel of the 1st Cavalry, his commission signed by the newly elected Abraham Lincoln. However, when he was offered command of forces that would invade the South, Lee resigned his commission.
In late April he was appointed major general and commander of Virginia military forces. A month later, when Virginia became part of the Confederacy, Lee was commissioned first a brigadier general in the Confederate Army (no higher rank having been created at that time) and later general. In March 1862 he became the military adviser to President Jefferson Davis. At the beginning of June Lee succeeded the wounded General Joseph E. Johnston in command of the Army of Northern Virginia in charge of defending Richmond. Lee led his army through a series of victories-at the Battles of the Seven Days, Second Bull Run, Fredericksburg, and Chancellorsville-punctuated by reverses at Antietam and Gettysburg. In February 1865 Lee was appointed general in chief of the Confederate armies; but two months later, on 9 April, he was forced to surrender the Army of Northern Virginia at Appomattox Court House. After the war Lee accepted the presidency of Washington College at Lexington, Virginia, and served there until his death. (The school's name was later changed to Washington and Lee University.)
Content From:
The U.S. Army Center of Military History