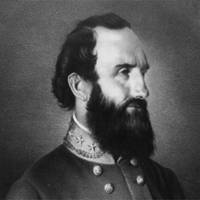 "Stonewall" Jackson was born Thomas Jonathon Jackson on January 21, 1824, in Clarksburg, West Virginia. He went from being an orphan to one of the most valued generals in the Southern Army.

Despite the fact that he was mainly self-educated, Jackson went to West Point Military Academy and graduated 17th in his class. After he graduated, he was sent as an officer to fight in the Mexican War. He had some quiet years after that, teaching military tactics and physical science at the Virginia Military Institute. He spent summers enjoying art and culture.

Then in 1861, the Civil War started and Jackson began to lead troops to battle for the South. It was during the Battle of Bull Run in Virginia that he received his nickname. During the gunfire and confusion of the battle, Brigadier General Barnard E. Bee said, "There is Jackson standing like a stone wall." The soldiers under his command came to admire his stubborn courage and started calling him "Stonewall" Jackson. As General, he fought in many battles, until he was wounded by friendly fire at the Battle of Chancellorsville in Virginia and died a week later from pneumonia in 1863.
Thomas J. Jackson
Thomas J. Jackson
1824-1863, Virginia
Jackson was born in what is now Clarksburg, West Virginia. His parents died while he was still a child, and he was raised by an uncle. At the age of eighteen he was appointed to West Point and graduated in 1846 in time to participate in the Mexican War. He was assigned to the 1st Regular Artillery and participated in the storming of Chapultepec. In 1851 he resigned his Army commission and accepted a teaching position at the Virginia Military Institute in Lexington, Virginia. For ten years he was a professor of natural philosophy and an instructor of artillery tactics. While at the Institute, Jackson married Elinor Junkin; after her death a year later he took a leave of absence from the Institute and spent the summer of 1856 in Europe. After his return to Virginia, Jackson was married again, to Mary Anna Morrison of North Carolina. Upon the outbreak of the Civil War, Jackson was commissioned a colonel in the Virginia forces and sent to Harper's Ferry, where he was active in organizing recruits. Jackson was soon appointed brigadier general and given command of a brigade in the Army of the Shenandoah. The brigade participated in the Battle of First Bull Run on 21 July, in which Jackson and his command received the nickname Stonewall. A month later Jackson was promoted to major general. In November he was assigned command of the Valley District, consisting of the Stonewall Brigade and other attached troops. In May 1862 he began his celebrated Valley Campaign, winning victories at McDowell, Front Royal, Winchester, Cross Keys, and Port Republic. Jackson then marched to Richmond to join Lee's Army of Northern Virginia in the defense of the capital. After the Peninsula Campaign, Jackson, commanding a wing of Lee's Army of Northern Virginia, was detached and sent on a flanking march around the Union army under Pope. Jackson captured Pope's supply base at Manassas and, after being joined by Lee and the remainder of the Confederate Army, defeated Pope at the Battle of Second Bull Run on 30-31 August. In the Maryland Campaign, Jackson's wing captured the 11,000-man Union garrison at Harper's Ferry and then joined Lee at Sharpsburg to participate in the Battle of Antietam on 17 September. Two months later he was promoted to lieutenant general and his wing officially became the II Corps. At the Battle of Fredericksburg on 13 December, Jackson's corps held the right flank of Lee's army and easily repelled half-hearted Union assaults. The following year, at the Battle of Chancellorsville, he led his corps on a wide flank march on 2 May that routed the Union XII Corps. Personally reconnoitering the front lines that night, Jackson was shot accidentally by his own men. Following the amputation of his arm, he died eight days later, on 10 May 1863.
Content From:
The U.S. Army Center for Military History