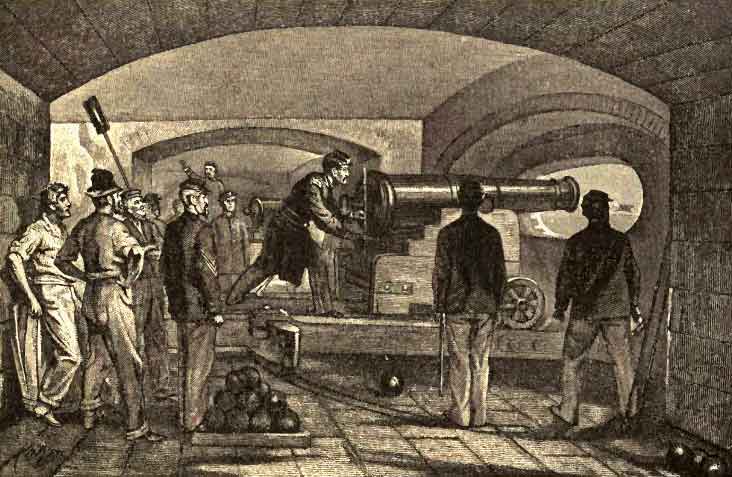 .
HISTORY OF
THE UNITED STATES
FROM THE EARLIEST DISCOVERY
OF AMERICA TO THE PRESENT DAY
BY
 E. BENJAMIN ANDREWS
PRESIDENT OF BROWN UNIVERSITY
WITH 400 ILLUSTRATION AND MAPS
VOLUME III
NEW YORK
CHARLES SCRIBNER'S SONS
1896
COPYRIGHT, 1894, BY
CHARLES SCRIBNER'S SONS
Press of J. J. Little & Co.
Astor Place. New York
CONTENTS
PERIOD II
WHIGS AND DEMOCRATS TILL THE
DOMINANCE OF THE SLAVERY CONTROVERSY
1814--1840
PAGE
CHAPTER I. THE WHIG PARTY AND ITS MISSION                                                19
The Word "Whig."--Republican Prestige.--Schism.--Adams's Election.--Five Doctrines of Whiggism.--I. Broad Construction of the Constitution.--II. The Bank.--Death of Old and Birth of New.--Opposition by Jackson.--III. The Tariff of 1816.­--Its Object.--IV. Land.--Whig versus Democratic Policy.­--V. Internal Improvements --Rivers and Harbors.--Need of Better Inland Communication.--Contention between the Parties.--Whig Characteristics.--Adams.--Webster.--His Political At­titude.--Clay.--His Power, as an Orator.--His Duel with Ran­dolph.--His Wit.--His Influence.
CHAPTER II. FLORIDA AND THE MONROE DOCTRINE.                                      42
Florida's Disputed Boundary.--West Florida Occupied.­--Jackson Seizes East Florida.--Puts to Death Ambrister and Arbuthnot.--His Excuse.--Defended by Adams.--Sale of Florida. --Revolt of Spanish America.--Monroe's Declaration.--Its Origin.
PAGE
CHAPTER III. THE MISSOURI COMPROMISE                                                               52
Missouri Wishes Statehood.--Early History of Slavery.--Hos­tility to it.--First Abolitionist Societies.--Ordinance of 1787.--­Slavery in the North.--In the South.--Pleas for its Existence.--­Missouri Compromise.--Pro-slavery Arguments.--The Policy Men.--Anti-slavery Opinions.--Difficulties of the Case.--The Anti-slavery Side Ignores these.
CHAPTER IV. THE GREAT NULLIFICATION                                                                 63
Rise of Tariff Rates after 1816.--Relations of Parties and Sec­tions to the Tariff.--Minimum Principle.--Tariff of Abominations Adopted.--Harmful to the South.--Nullification Project.--Cal­houn's Life and Pet Political Theory.--South Carolina Recedes.­--Compromise Tariff.--State Rights and Central Government.--Webster's Plea.
CHAPTER V. MINOR PUBLIC QUESTIONS OF JACKSON'S "REIGN"                          78
Jackson's Life.--Mistaken Ideas.--Civil Service Reform.--­Perfecting of Party Organization in the Country.--Jackson and the United States Bank.--His Popularity.--Revival of West Indian Trade.--French Spoliation Claims.--Paid.--Our Gold and Silver Coinage.--Gold Bill.--Increased Circulation of Gold.--­Specie Circular.
CHAPTER VI. THE FIRST WHIG TRIUMPH                                                                    93
Election of Harrison in 1840.--Causes.--Jackson's Violence.­--Sub-treasury Policy.--Panic of 1837.--Decrease of Revenue.­--Whig Opposition to Slavery.--Seminole War.--Amistad Case.--Texan Question.--"Tippecanoe and Tyler too."
                                                             CONTENTS                                                            9
PAGE
CHAPTER VII. LIFE AND MANNERS IN THE FOURTH DECADE                              109
Population and Area.--The West.--The East.--An American Literature.--Newspaper Enterprise, Mails, Eleemosynary Insti­tutions.--American Character.--Temperance Reform.--The Land of the Free.--Religion.--Anti-masonic Movement.--Banking Craze.--Moon Hoax.--Party Spirit.--Jackson as a Knight Er­rant.--His Self-will.--Enmity between Adams and Jackson.--­Costumes.
CHAPTER VIII. INDUSTRIAL ADVANCE BY 1840                                                      132
F. C. Lowell and his Waltham Power-loom.--Growth of Fac­tory System.--New Corporation Laws.--Gas, Coal, and Other Industries.--The Same Continued.--The National Road.--Stages and Canals.--Ocean Lines.--Beginning of Railroads.--Opposition.--First Locomotive.--Multiplication of Railroads.
PERIOD III
THE YEARS OF SLAVERY CONTRO­VERSY
1840-1860
CHAPTER I. SLAVERY AFTER THE MISSOURI COMPROMISE                                 149
Cotton and Slavery.--Evils of Slavery: Social, Economic.­--Slave Insurrections.-- Turner's Rebellion.--Abolition in Virginia.--Black Laws.--Lull in Anti-slavery Agitation.--Colonization Society.--Fugitive Slave Laws.--Prigg's Case.--Personal Liberty Laws in the North.--Kidnapping Expeditions.--Domestic Slave-trade.--Non-emancipation Laws.--Business Relations between North and South.
                                                                                                                               PAGE
CHAPTER II. "IMMEDIATE ABOLITION"                                                                     163
Renewed Hostility to Slavery.--Lundy.--Garrison.--Affiliations of this Movement.--The New England Anti-slave Society.­--Significance, Purpose, Work.--Methods of Abolitionists.--South­ern Opposition.--Northern.--Anti-abolitionist Riots at the North.--Murder of Lovejoy.--Outrages against Northern Blacks.--Col­ored Schools Closed.--Schism among the Abolitionists.--The Liberty Party.--Ultra-abolitionists' Unreason.--Why Abolitionism Spread.--Ambiguity of the Constitution.--Seizure of Black Sea­men.--Grievances on both Sides.
CHAPTER III. THE MEXICAN WAR                                                                              179
Texas Declares her Independence.--Battle of San Jacinto.--­The Democracy Favors Annexation.--Calhoun's Purpose.--Oppo­sition of Clay and the Whigs.--Texas Admitted to the Union.­--Causes of the War.--The Nueces vs. the Rio Grande.--Prelimi­nary Operations.--Battle of Palo Alto.--Declaration of War.­--Monterey Captured.--Santa Anna again President.--Buena Vista.--Taylor's Victory.--Scott Appointed to Chief Command.--Cap­ture of Vera Cruz.--Cerro Gordo.--Jalapa.--Re-enforced by Pierce.--On to the City of Mexico.--Contreras.--Churubusco.­--Molino del Rey.--Storming of Chapultepec.--Capture of the Capital.--Treaty of Guadalupe Hidalgo.--Its Conditions.--The Oregon Question.
CHAPTER IV. CALIFORNIA AND THE COMPROMISE OF 1850                                 198
Invasion of New Mexico.--Exploration and Seizure of Cali­fornia.--Discovery of Gold.--Resulting Excitement.--Increase of Population.--Gold Yield.--Early Law and Government.--Slavery's Victory.--The Wilmot Proviso.--Taylor President.--Application by California for Admission to the Union.--Clay's Omnibus Bill. --Webster Superseded by Sumner.--Passage of the Omnibus Com­promise.--California a State.--Enlargement of Texas.--New Fugitive Slave Law.--Revival of Abolitionism.--Underground Rail­road.--Rendition of Anthony Burns.--Other Cases.
                                                         CONTENTS                                                         
PAGE
CHAPTER V. THE FIGHT FOR KANSAS.                                                                      216
Plot against the Missouri Compromise.--Pierce's Election.­--The Kansas-Nebraska Bill.--Abrogation of the Missouri Com­promise.--Squatter Sovereignty.--Anti-slavery Emigration to Kan­sas.--Political Jobbery by the Slavocracy.--Topeka Convention.-­Kansas Riots.--Lecompton Constitution.--Opposed by Free-State Men.--Kansas Admitted to the Union.--Assault upon Sumner.­--Southern Repudiation of the Douglas Theory.--Dred Scott De­cision.--Startling Assumption of the Supreme Court.--Effect.-­Counter-theory.
CHAPTER VI. SLAVERY AND THE OLD PARTIES                                                     234
Democracy and Whiggism.--Ambiguous Attitude of the Latter toward Slavery.--The Creole Case.--Giddings's Resolutions.--Quincy Adams as an Abolitionist.--The First Gag Law.­--Adams's Opposition.--The Second and Third.--Their  Repeal.--­Pro-slavery Whigs.--Submission to Slavocracy.--Its Insolent Demands.--Death of Whiggism.--Americanism.--The Know­-Nothings.--Revolt from the Democracy at the North.
CHAPTER VII. THE CRISIS                                                                                            250
Consolidation of Anti-slavery Men.--Worse Black Laws.­--Schemes for Foreign Conquest.--Lopez's and Walker's Expedi­tion.--Ostend Manifesto.--Supremacy of Slavery.--Rise of Free-­soilers.--Incipient Republicanism.--Republican Doctrine.--John Brown's Raid.--Schism between the Northern and the Southern Democrats.--Nomination of Douglas.--Breckenridge and Lane.­--Bell and Everett.--Lincoln and Hamlin.--Lincoln's Popularity.--His Election to the Presidency.
CHAPTER VIII. MATERIAL PROGRESS                                                                        268
Population and Economic Prosperity.--Growth of the West.--Indian Outbreaks.--Improvements farther East.--Canals and Railroads.--The Steam Horse in the West.--Morse's Telegraph.--Ocean Cables.--Minor Inventions.--Petroleum.--Financial Cri­sis of 1857.
PERIOD IV
CIVIL WAR AND RECONSTRUCTION
1860-1868
                                                                                                                             PAGE
CHAPTER I. CAUSES OF THE WAR                                                                      290
An "Irrepressible Conflict."--Growth of North.--Influence of Missouri Compromise Repeal.--Slavery as Viewed by the South.--Stephens.--Anti-Democratic Habits of Thought.--Compact Theory of the Union.--State Consciousness, South.--Argument for the Calhoun Theory.--Secession not Justifiable by this.--Moderates and Fire-eaters.--Northern Grievances.--Do not Ex­cuse Secession.--Lincoln's Election.--Patriotic and Philanthropic Considerations Ignored.--Prudence also.--Resources of South and of North.
CHAPTER II. SECESSION                                                                                       305
Threats of Secession before 1860.--By New England.--By the South in 1856.--Governor Wise.--The 1860 Campaign.--Attitude of South Carolina.--Of the Gulf  States.--Georgia, North Caro­lina, Louisiana.--Election of Lincoln.--South Carolina will Secede. --Judge Magrath.--The Palmetto State Goes.--Enthusiasm.­--The State Plays Nation.--Effect upon Other States.--Mississippi, Florida, Alabama, Georgia, Louisiana. and Texas Follow.­--Strong Union Spirit Still.--Vain.--Georgia and Secession.--The Question in Louisiana, Kentucky, Tennessee, Virginia, Missouri, Arkansas, North Carolina.--Seizure of United States Property.--­Floyd's Theft.--Fort Moultrie Evacuated for Sumter.--Fort Pickens.--New Orleans Mint.--Twiggs's Surrender.--Theory of Seceding States as to Property Seized.--Southern Confederacy.­--Davis President.--His History.--Inaugural Address.--Powers.--Confederate Government and Constitution.--Slavery.--State Sovereignty.--Tariff.--Good Features.--Bright Prospects of the New Power.
                                                               CONTENTS                                                         
                                                                                                                               PAGE
CHAPTER III. THE NORTH IN THE WINTER OF 1860--61                                      325
Apathy.--Disbelief in South's Seriousness.--Divided Opinion.--Suggestions toward Compromise.--Anti-coercion.--Convention at Albany.--Mayor Wood of New York.--Buchanan's Vacillation.--Treason all about Him.--Star of the West Fired on.--Inaction of Congress.--Crittenden's Compromise Lost.--Washington Peace Congress.--Vain.--Earnestness of South.--Lincoln Inaugurated.--His Address.--How Received.--His Difficult Task.--Plight of Army, Navy, Treasury.--Sumter Fired on.--Defended.--Evacuated.--Effect at North.--War Spirit.--75,000 Volunteers.--The Sixth Massachusetts in Baltimore.--Washington in Danger.­--General Scott's Measures.--March of the Massachusetts Eighth and the New York Seventh.--Their Arrival in Washington.
CHAPTER IV. WAR BEGUN                                                                                     342
Both Sides Expect a Brief Struggle.--South's Advantages.­--Call for Three Years' Men.--Butler in Baltimore.--Maryland Saved to the Union.--Alexandria and Arlington Heights Occupied.--Ellsworth's Death.--Each Side Concentrates Armies in Virginia.--Fight at Big Bethel.--At Vienna.--The Struggle in Missouri.--Lyon and Price.--Battle of Wilson's Creek.--Lyon's Death.--Fremont, Hunter, and Halleck in Missouri.--The Contest in Kentucky.--The State becomes Unionist.--In West Vir­ginia.--Lee and McClellan.--Brilliant Campaign of the Latter.­--West Virginia Made a State.--Beauregard at Manassas.--Patter­son's Advance.--Harper's Ferry Taken.--"On to Richmond."­--Battle of Bull Run.--Union Defeat and Retreat.--Losses.--Com­ments.--Depression at the North, followed by New Resolution.­--McClellan.--Army of Potomac Organized.--The Capital Safe.­--Affair of Ball's Bluff.--The South Hopeful.--And with Reason.
                                                  LIST OF ILLUSTRATIONS                                             15
                                                                                                                               PAGE
THE FIRST GUN FIRED FROM FORT SUMTER,                                             Frontispiece
WEBSTER'S HOME AT MARSHFIELD, MASS.,                                                               27
DANIEL WEBSTER.
(From a picture by Healy at the State Department, Washington),                                       29
THE HOUSE IN WHICH HENRY CLAY WAS BORN.                                                     32
THE SCHOOL-HOUSE OF THE SLASHES,                                                                      34
HENRY CLAY. (From a photograph by Rockwood of an old daguerreotype),                         35
JOHN RANDOLPH.
(From a picture by Jarvis in 1811, at the New York Historical Society),                             39
JAMES MONROE.
(From a painting by Gilbert Stuart--now the property of T. Jefferson Coolidge),                  45
JOHN QUINCY ADAMS. (From a picture by Gilbert Stuart),.                                              65
JOHN C. CALHOUN. (From a picture by King at the Corcoran Art Gallery),                         71
CALHOUN'S LIBRARY AND OFFICE, .                                                                           75
ANDREW JACKSON (From a photograph by Brady),                                                          79
ROGER B. TANEY,                                                                                                            85
MARTIN VAN BUREN. (From a photograph by Brady),                                                      95
GENERAL WILLIAM J. WORTH                                                                                    100
WILLIAM HENRY HARRISON.
(From a copy at the Corcoran Art Gallery of a painting by Beard in 1840),                       105
JOHN TYLER. (From a photograph by Brady),                                                                   111
A PONY EXPRESS,                                                                                                          116
THURLOW WEED. (From an unpublished photograph by Disderi,
Paris, in 1861. In the possession of Thurlow Weed Barnes),                                            123
FROM AN OLD TIME-TABLE.
(Furnished by the ABC Pathfinder Railway Guide),                                                        134
TRIAL BETWEEN PETER COOPER'S LOCOMOTIVE "TOM THUMB"
AND ONE OF STOCKTON'S AND STOKES' HORSE CARS.
(From "History of the First Locomotives in America"),                                                    136
PETER COOPER'S LOCOMOTIVE, 1829,                                                                        138
                                                                                                                               PAGE
OBVERSE AND REVERSE OF A TICKET USED IN 1838 ON THE
NEW YORK & HARLEM RAILROAD,                                                                     140
BALTIMORE & OHIO RAILROAD, 1830,                                                                       141
OLD BOSTON & WORCESTER RAILWAY TICKET (ABOUT  1837),                           143
THE "SOUTH CAROLINA," 1831, AND PLAN OF ITS RUNNING GEAR,                      146
BOSTON & WORCESTER RAILROAD, 1835,                                                                 147
THE DISCOVERY OF NAT TURNER,                                                                            154
JOHN G. WHITTIER,                                                                                                       165
WM. LLOYD GARRISON,                                                                                               167
WENDELL PHILLIPS,                                                                                                     169
FACSIMILE OF HEADING OF THE "LIBERATOR,"                                                       174
GENERAL SAM. HOUSTON,                                                                                          180
GENERAL SANTA ANNA,                                                                                              182
JAMES K. POLK. (After a photograph by Brady),                                                              185
GENERAL WINFIELD SCOTT,                                                                                        189
THE PLAZA OF THE CITY OF MEXICO,                                                                       193
ZACHARY TAYLOR. (After a photograph by Brady),                                                       199
THE SITE OF SAN FRANCISCO IN 1848,                                                                       201
SUTTER'S MILL, CALIFORNIA, WHERE GOLD WAS FIRST DISCOVERED,              202
MILLARD FILLMORE.
(From a painting by Carpenter in 1853. at the City Hall, New York),                                211
THE RENDITION OF ANTHONY BURNS IN BOSTON,                                                214
FRANKLIN PIERCE.
(From a painting by Healy, in 1852, at the Corcoran Art Gallery),                                     219
STEPHEN A. DOUGLAS,                                                                                                 222
CHARLES SUMNER,                                                                                                       227
THOMAS H. BENTON                                                                                                     243
ABRAHAM LINCOLN. (After a rare photograph in the posses­sion
of Noah Brooks. Only five copies of this photograph were printed),                                 251
JOHN BROWN,                                                                                                                260
                                                    LIST OF ILLUSTRATIONS                                             
                                                                                                                               PAGE
WILLIAM H. SEWARD. (From a photograph by Brady),                                                    265
ELIAS HOWE,                                                                                                                  269
THE VANDALIA. THE PIONEER PROPELLER ON THE LAKES,                                271
OLD STONE TOWERS OF THE NIAGARA SUSPENSION BRIDGE,                             272
THE NEW IRON TOWERS OF THE NIAGARA BRIDGE,                                              274
BIRTHPLACE OF S. F. B. MORSE,
AT CHARLESTOWN, MASS. BUILT 1775,                                                                275
S. F. B. MORSE,                                                                                                               276
THE FIRST TELEGRAPHIC INSTRUMENT,
AS EXHIBITED IN 1837 BY MORSE,                                                                        278
CALENDERS HEATED INTERNALLY BY STEAM, FOR SPREADING
INDIA RUBBER INTO SHEETS OR UPON CLOTH,
CALLED THE "CHAFFEE MACHINE,"                                                                     279
THE GREAT EASTERN LAYING THE ATLANTIC CABLE,                                          282
SOUNDING MACHINE USED BY A CABLE EXPEDITION,                                         283
CYRUS W. FIELD,                                                                                                           285
PAYING OUT CABLE GEAR. FROM CHART HOUSE,                                                  287
SHORE END OF CABLE--EXACT SIZE,                                                                         288
BARNACLES ON CABLE,                                                                                               289
JAMES BUCHANAN. (From a photograph by Brady),                                                        301
STREET BANNER IN CHARLESTON,                                                                            310
MAJOR ROBERT ANDERSON,                                                                                       315
MAJOR ANDERSON REMOVING HIS FORCES
FROM FORT MOULTRIE TO FORT SUMTER, DECEMBER 26, 1861, .                    317
JEFFERSON DAVIS,                                                                                                        320
ALEXANDER H. STEPHENS,                                                                                          322
SCENE OF THE FIRST BLOODSHED, AT BALTIMORE,                                               338
CAPTAIN NATHANIEL LYON,                                                                                      345
GENERAL JOHN C. FREMONT,                                                                                     348
GENERAL IRVIN McDOWELL,                                                                                      353
GENERAL SAMUEL P. HEINTZELMAN,                                                                       355
GENERAL JOSEPH E. JOHNSTON,                                                                                361
GENERAL GEORGE B. McCLELLAN,                                                                            363
            VOL. III.-2
                                                                                                                               PAGE
THE UNITED STATES
AFTER THE ADMISSION OF ARKANSAS, 1836,                                         facing 179
PLAN OF THE BATTLE OF BUENA VISTA,
MORNING 23D FEBRUARY, 1847,                                                                            187
ROUTE OF THE SIXTH MASSACHUSETTS TROOPS
THROUGH BALTIMORE,                                                                                          336
THE ROUTES OF APPROACH TO WASHINGTON,                                                      340
THE SOUTHERN CONFEDERACY,                                                                    facing 342
BULL RUN--THE FIELD OF STRATEGY.                                                                      351
BULL RUN--BATTLE OF THE FORENOON,                                                                  357
BULL RUN--BATTLE OF THE AFTERNOON,                                                               359