Freedom's Frontier National Heritage Area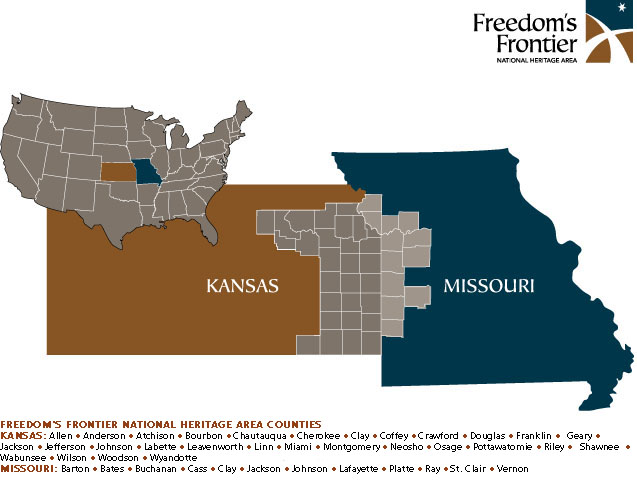 On
June 2, 1856
, in a prairie slough named for the oak trees that thrived there, militias from
Kansas
and
Missouri
fought the first skirmish of a war that would embroil the nation for years to come. Led by anti-slavery zealot John Brown and future Confederate Colonel Henry Clay Pate, the Battle of Black Jack preceded the siege of
FortSumter
and the formal start of the Civil War by five years. During those years, the events in our region focused the nation's attention on the great struggle between state and federal authority over slavery and the humanity of a nation. To call our western
Missouri
and eastern
Kansas
heritage area the birthplace of the Civil War is no exaggeration.
Freedom's Frontier National Heritage Area comprises forty-one counties along the Kansas-Missouri border. Designated by Congress in October 2006, the area encompasses historic and cultural sites where conflicts erupted about slavery, land ownership, western expansion and freedom itself. Partners tell the powerful stories in ways that compel visitors to consider the complexity of the ideal of freedom. From slaves seeking freedom from shackles and being bought and sold, to homesteaders seeking freedom to own land, to prospectors and hunters seeking freedom to enjoy the bounty of the western lands, to schoolchildren seeking free and equal public education, this region has been the backdrop for a riveting national dialogue on the meaning of freedom.
Freedom's Frontier National Heritage Area offers visitors an understanding of the Civil War from its origins on the western frontier. As we approach the 150th anniversary of the beginning of the war, we invite visitors to examine contemporary understandings and the ever-evolving ideal of freedom by exploring Freedom's Frontier.
For more information, please visit www.freedomsfrontier.org