Three Local Chefs to Compete in SPAM-centered Live Cooking Event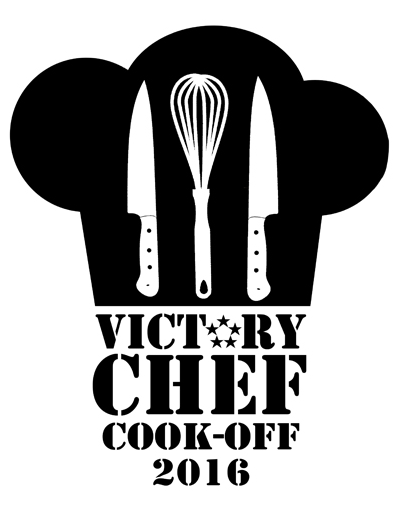 Local chefs Jenny Elmes, George Huger and Nathan Fountain will compete in a Food Network-type cooking format in the first Victory Chef Cook-off on Nov. 6 beginning at 2 PM in Marshall Hall on the post at VMI. The public is invited.
The event is co-sponsored by the George C. Marshall Foundation and the Lexington-Buena Vista-Rockbridge Chamber of Commerce. It is a part of the Marshall Legacy Series of events and programs presented under the theme, Let's Get a Move On, that showcases civilian and industrial mobilization in support of World War II when Gen. George C. Marshall was Army Chief of Staff.
The chefs will be challenged to prepare an entrée and two side dishes using a basket of produce and goods that would have been available to the average citizen at home in the United States during WWII. Plus they must incorporate SPAM, The Hormel Company canned meat product, into their entrée.
Jim Fiala, who is the veterans program manager for Hormel, headquartered in Austin, MN, will talk about his company's involvement during the war and the unique process Hormel developed to can and preserve SPAM. Fiala and local chef and caterer John Stallard will emcee the event. Stallard owns C.H.E.F.S. Catering in Lexington.
Jenny Elmes owns Full Circle Catering; George Huger owns Southern Inn, and Nathan Fountain owns Mano Tanqueria, all in Lexington.
Judges include Matt Paxton, publisher of The News-Gazette; Col. Patrick Looney, of VMI, and Ben Worth, of Dabney S. Lancaster Community College.
Tickets for this event are required and can be purchased for $15 for adults and $5 for students (12 years and older) on the Marshall Foundation website at www.marshallfoundation.org or $25 per person at the door. Attendees will receive a gift bag of items to take home.
Guests will not only be able to observe the chefs in action and the running commentary by Fiala and Stallard, they will also be able to look at displays of Victory Gardens and 1940s kitchen items, participate in a SPAM quiz, enter a silent auction to win one, two, three or four numbered Norman Rockwell prints of Coca-Cola scenes, try Marshall staff-prepared "SPAMatizers" along with a bottle of Coca-Cola and more.
The Marshall Legacy Series is being presented with sponsorship from the Carnegie Corporation of New York. The Legacy Series interprets General Marshall's legacy during a four-year series of exhibitions, speakers and programs centered on key themes or episodes from General Marshall's career.
For more information: Rick Drake
540 463 7103 or This email address is being protected from spambots. You need JavaScript enabled to view it.
GEORGE C. MARSHALL's contributions to our nation and the world cannot be overstated. He was the organizer of victory and the architect of peace during and following World War II. He won the war, and he won the peace. His characteristics of honesty, integrity, and selfless service stand as shining examples for those who study the past and for those generations who will learn about him in the future. The Marshall Foundation located in Lexington, Virginia, that includes a museum and a research library is dedicated to celebrating his legacy.
Marshall's career touched on many of the key events of the 20th century—as a new Army officer following the Philippine insurrection, as a member of the staff of General of the Armies John J. Pershing during World War I, as U.S. Army Chief of Staff during World II, as Secretary of State and the architect of European economic recovery following WWII, and as Secretary of Defense during the Korean War. He is the only person to have served in these three highest positions.
During World War II, Marshall as Army Chief of Staff (1939–1945) was the most important military figure in the U.S. military establishment and of great significance in maintaining the Anglo-American coalition. After the war, he was named special ambassador to China (1945–1947), Secretary of State (1947–1949), President of the American Red Cross (1949–1950), and Secretary of Defense (1950–1951). In 1953 he was awarded the Nobel Peace Prize for his role in proposing, encouraging legislative action, and supporting the European Recovery Program (known as the Marshall Plan). For nearly 20 years he was a major U.S. leader, militarily, politically and morally, and he is still widely admired today.