Galesburg Heritage Days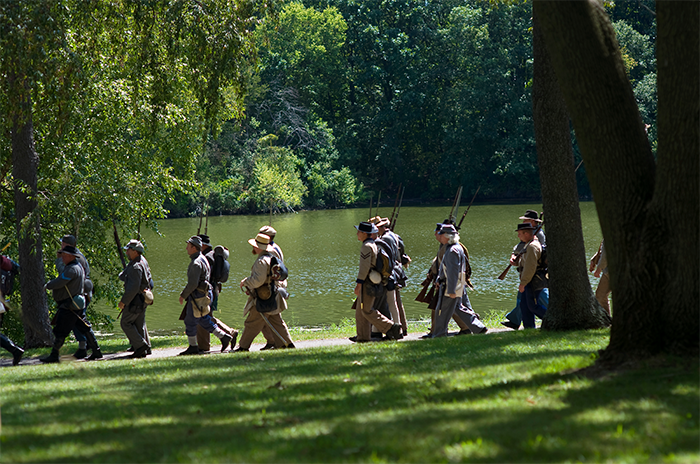 Galesburg Heritage Days brings people from all over the country to Lake Storey every year to celebrate American heritage. The event is divided into two camps: the Civil War side and the Rendezvous side. Rendezvous is a potpourri of people, booths and events from before the Civil War.

Recognized as one of the Midwest's largest living history festivals, come share in the excitement and make plans to join us August 14-16 at Galesburg Heritage Days. A family event, featuring both a pre-1840 early American Colonial Frontier Rendezvous, and a Civil War Battle Reenactment/Encampment, along with dozens of unique period merchants, you will be able to immerse yourself in the early and mid-19th century. Everything is within walking distance of each other.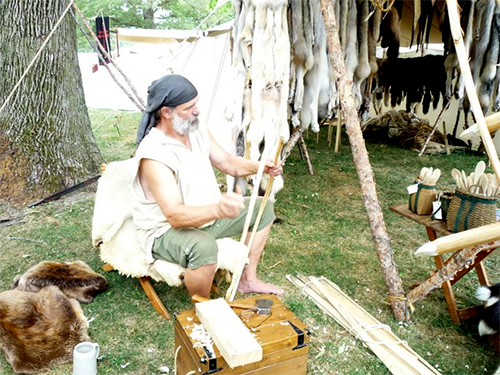 The event takes place at beautiful Lake Story Park in Galesburg Illinois.  Offering 411 acres of woodland and prairie plus a 130 acre lake and your choice of primitive or modern amenities Lake Storey is a great place to travel back in time. The park is one of the most beautiful and truly unique event locations in the Midwest, drawing well over 600 reenactors from 14 different states.

Feel the excitement, experience the history of two time periods in America.  Enjoy a traveling family circus, period food stands and crafts for sale, a fishing contest for children, canoe races on the lake, night firing of cannons and a military ball.  This is a great family outing to end summer.

If you want to slip back in time, stay after dark and listen to the sounds of the 19th century.  You won't hear a radio or see any flood lights.  This camp keeps the spirit of a more primitive time with live music, robust conversation and soothing campfires.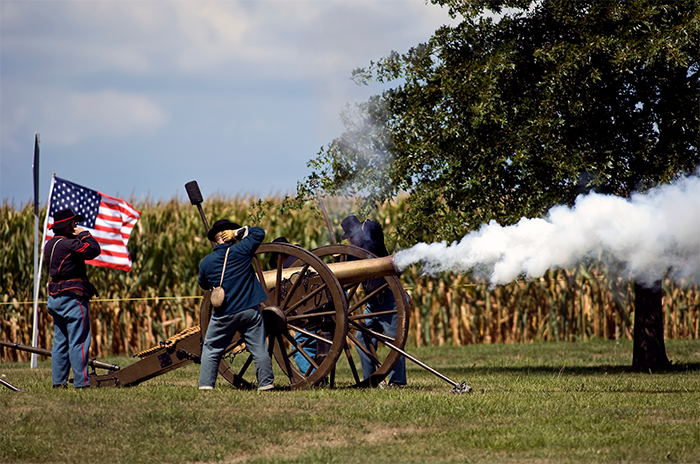 John Allen from Roseville, Wisconsin, goes by "Ten Horses" as a trader of Native American flutes and jewelry. He can be found each morning comfortable in his tent playing tunes on his handcrafted flutes.
Self-taught in the 1980s, Allen can play just about anything on his flutes. He spends time tuning them to work with a traditional sheet music scale but also said that special NA flute notation is available for those who do not read music.
"I play old folk songs, I play native music, I play orchestra, concert music. You name it I play it," he said.
The instrument's versatility comes from careful construction through a days-long process.
"This particular style of them I take a piece of wood and split it, carve out the inside, put it back. I have to tune all the holes," Allen said. "I can get a couple done in about six days."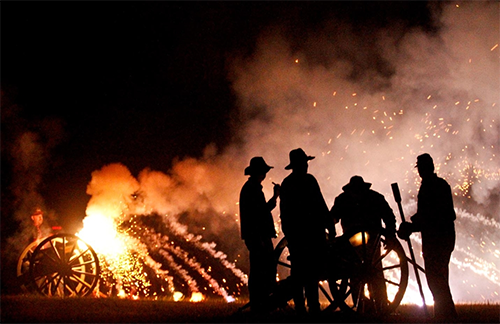 Canon fire in the context of a battle is never a welcome sound.  But, during reenactments like Heritage Days, you can enjoy the booming and delight in the flash of gun powder when mighty guns are discharged after dark each night.  During the day, experience some of what the soldiers from the North and South experienced with battle reenactments complete with infantry, cavalry and artillery.
Galesburg is well positioned on I-74.  We are only about 3 hours from Chicago, 4 hours from St. Louis and 40 minutes from Peoria to the south and the Quad Cities to the north.  We are proud of our railroad heritage.  We are an Amtrak Community with two round trips from Quincy to Chicago and two round trips from the west coast to Chicago.  Our Amtrak station is also a Burlington Trailways Bus station.  The station is undergoing a major expansion and renovation this summer.  It will have a larger waiting area, baggage check area  and new bathrooms.

When you make the trek to Galesburg remember to stop in at our Welcome Center at 2163 E. Main Street.  We have all the local information you need.  Our Welcome Center is a mini-museum with exhibits regarding the Lincoln Douglas debates, Carl Sandburg, Ronald Regan and other notable figures and events from our history.