Rally Round the Delaware Flags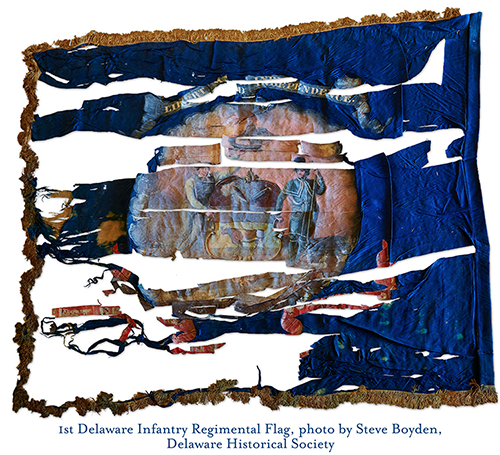 As the nation observes the 150th anniversary of the Civil War, the Delaware Historical Society is asking the public to help it conserve two precious, unique pieces of Delaware history.  The Society holds the regimental and US flags used by the 1st Delaware Volunteer Infantry in the Civil War—flags that were in the thick of battle at Antietam, Chancellorsville, and Gettysburg.  They bear the tears and wounds of their service. These treasured objects provide direct links to all of the brave Delawareans who fought in the Civil War, some of whom gave their lives for the cause these flags represent. 
The First Delaware organized in April 1861 as a 3-month regiment, then reorganized as a 3-year regiment.  It served in the II Corps of the Army of the Potomac. The regiment acquired these flags in August 1862.  From there, the men marched to Antietam, their first major battle, where they were in the fight at the Sunken Road.  They almost lost their flags, but a brave group of soldiers rescued them.  Charles Tanner received the Medal of Honor for his actions in rescuing the flags.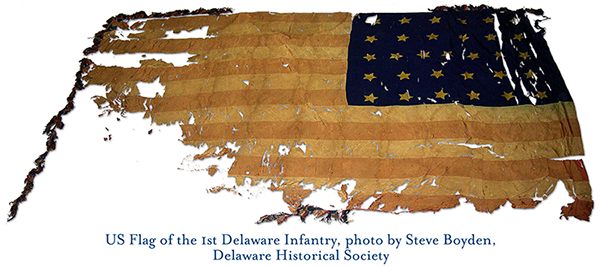 At Chancellorsville in early May 1863, the First Delaware, pushing Lee's troops down the Plank Road, found itself cut off from the rest of the army.  However, they made a gallant return to the Union army, flags proudly flying.
Gettysburg found the First Delaware at Pickett's Charge.  When the charge was broken, the flags led the First Delaware over the stone wall to combat the Confederates at close range.  The regiment took hundreds of prisoners and captured three enemy flags.
January 1864 found the First Delaware at home in Wilmington, Delaware, on leave.  Here the color guard proudly posed with their tattered flags for a photograph, itself a treasure of Delaware's Civil War iconography.  The flags were retired at this time in the care of the Association of the Survivors of the First Delaware Volunteer Infantry Regiment. 
After the war, the flags were used in early Decoration Day observances. In 1884, the Association of the Survivors of the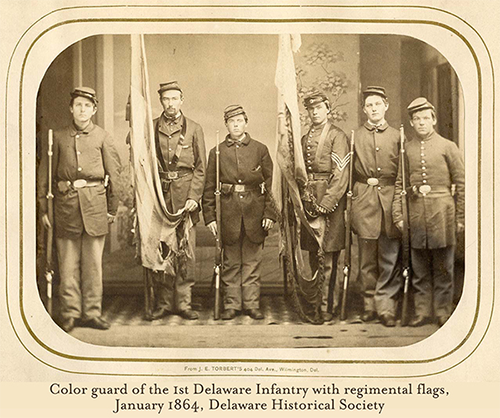 First Delaware Volunteer Infantry Regiment placed them in the collections of the Delaware Historical Society, which had been founded in 1864.
The project's goal is to raise $30,000 to conserve the flags and present them in an exhibition.  Donations may be made online at http://www.dehistory.org/rally-round-the-flags-support, or you may send a check payable to the Delaware Historical Society to the Delaware Flags Fund, Delaware Historical Society, 505 N. Market St., Wilmington, DE  19801.  All donors will be acknowledged in the Society's newsletter and invited to a reception in honor of the completed project.  For more information, visit  http://www.dehistory.org/rally-round-the-flags-support or contact Dr. Constance Cooper, chief curator at This email address is being protected from spambots. You need JavaScript enabled to view it. or 302-295-2385.
The Delaware Historical Society is a statewide non-profit organization whose mission is to explore, preserve, share, and promote Delaware history, heritage, and culture to strengthen the community.  Visit the Society's online catalog Ask Caesar at http://www.dehistory.org/research-collections/collections-caesarhttp://www.dehistory.org/research-collections/collections-caesar to learn about its rich Civil War holdings.
Photo captions:
1st Delaware Volunteer Infantry Regimental Flag, photo by Steve Boyden, Delaware Historical Society
US Flag of 1st Delaware Volunteer Infantry, photo by Steve Boyden, Delaware Historical Society
Color Guard of 1st Delaware Volunteer Infantry, January 1864, Delaware Historical Society