Rock Island Auction Company announces the next Premiere Firearms auction on September 11, 12 & 13 to be held at their facility in Moline, IL.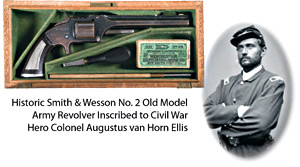 Exceptional pieces of history can be obtained in the many significant Civil War era pistols, rifles and muskets. The Civil war selection touts a historic Smith & Wesson No. 2 old model army revolver inscribed to Civil War hero Colonel Augustus van Horn Ellis and a rare special order Sharps Model 1859 carbine with double set triggers attributed to Captain James W. Carr, "C" Company Second Regiment of the New Hampshire Volunteers. Another excellent Sharps is an exceptional Sharps new Model 1863 carbine with metallic cartridge conversion. This auction has 4 volcanic pistols and carbines and 5 Henry rifles lead by a very fine Civil War 3rd regiment U.S. veteran volunteer infantry martial inspected Henry lever-action rifle. An old label glued to the left side of the stock wrist reads: "WILLIAM S. LAMB/Co. D - 3rd Regt. Penna. Volunteers/June 4, 1861 - June 4, 1864".
This auction offers both Union and Confederate firearms including a Civil War era "LM" Confederate proofed transition model LeMat percussion revolver. There are also several fine Colts including a scarce historical Hartford English Dragoon with Civil War "Harry Clark 8th Reg't Mass. Vol." inscription. Another impressive period example is an exceptionally rare S. HAWKEN St. Louis plains rifle.

In all, the September sale will offer over 2700 lots featuring 3 collections: firearms from the Roy Rogers and Dale Evans Museum, the Warner E. Bacon sporting arms collection and an impressive Victorian collection of gambling items, slot machines, canes, spurs advertising signs and back bar bottles. Also many other star-worthy items in several genres including derringers, Colts, Winchesters, antique firearms, sporting, military and more! Call now 800-238-8022 to order your two-volume full-color two-volume catalogue or view it online at www.rockislandauction.com.