Laurel Hill Cemetery and the Civil War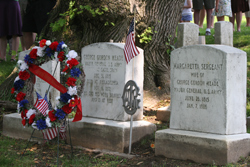 The stories that the men and women of the Civil War took to their graves place Laurel Hill Cemetery firmly in the stirring history of that era. The Cemetery has become a keeper of those stories, but it also bears its own personal connections to the War that changed America.
Laurel Hill was barely 25 years old as the shadow of war crept along the horizon. Originally founded in 1836 by Quaker librarian, John Jay Smith, the resting place also functioned as a sculpture garden, arboretum and park. The site's early managers tried to maintain normalcy despite the simmering tensions. The outbreak of war, however, was certainly on their minds, as acknowledged in an 1860 response from a colleague, whom sympathized with their concerns regarding the "present lamentable condition of our Country." The correspondent continued that "South Carolina seems to be bent on destruction, and unless an all wise Providence avert the impending evil, the other bottom states will be precipitated into revolution and our beloved Country will be involved in all the horrors of internecine war." This exchange was one of the only surviving references to the War that the Cemetery's managers committed to paper. Soon after, they began the solemn process of laying to rest many of Philadelphia's Civil War dead.
The first battle casualty came on June 10, 1862. Horace M. Lee, 1st Lieutenant of Company F, 81st Pennsylvania Infantry, was just 24 years old when he was mortally wounded at the Battle of Fair Oaks. His interment card included a family request to leave a space for his father, Major Robert M. Lee. The wait would not be long. The following July, father joined son in eternal repose at Laurel Hill. Hundreds more would follow. Confederate General John C. Pemberton, infamous for his surrender to Grant at Vicksburg, would be laid to rest in the same earth as General George Gordon Meade, who led the Union to victory at Gettysburg. Percival Drayton, whose death came just days before the arrival of a reconciliation letter from his Confederate brother, would be buried under an obelisk bearing a palmetto, the state tree of his native South Carolina. Battlefield nurse Elizabeth Hutter, and mother of Thanksgiving Sarah Josepha Hale, would join countless other women who contributed to the war effort before their final journeys to Laurel Hill.
These connections remind us that the Civil War, beyond being fought in 10,000 places, also touched the lives of a generation whose legacy cannot be forgotten. Laurel Hill Cemetery and the Friends of Laurel Hill will continue to remember our nation's bloodiest and most pivotal War with an exhibit and series of Sesquicentennial events in 2012. For more information, visit www.thelaurelhillcemetery.org.
Laurel Hill Cemetery | 3822 Ridge Avenue | Philadelphia, Pennsylvania 19132 | phone 215.228.8200
 
(also from the General Meade Society of Philadelphia, Friends of Laurel Hill; American Legion Post #405; Post #1 Society, Union League; Anna M. Ross Camp #1, Sons of Union Veterans)

Annual Memorial Day Observed at Historic Laurel Hill Cemetery, Philadelphia, PA
Sunday, May 27, 2012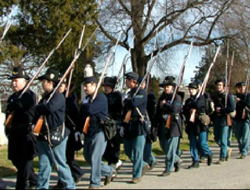 Recreating Original G.A.R. Decoration Day Service of 1868:    The traditional Decoration Day service of the Grand Army Meade Post #1 will be recreated at Historic Laurel Hill Cemetery, 3822 Ridge Ave. Philadelphia on Sunday, May 27, 2012 at 12 noon. All are welcome to attend and participate in the ceremony. Laurel Hill is the site of the first Memorial Day Observance in Philadelphia on this date in 1868.

Special bronze veterans' markers will be dedicated at the graves of veterans. Speakers, ceremonies and pageant will highlight this special ceremony. Afterwards the entourage will gather at the grave of General Meade, hero of Gettysburg to perform the traditional service to honor all veterans who fell defending the Nation. Wreath-laying, speeches, music and honor guards will enhance the ceremony.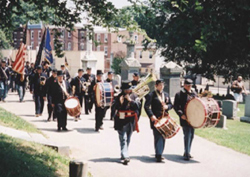 Historical groups, veterans, and citizens are urged to participate. Wreaths, military contingents, color guards, music and period civilians are encouraged to participate.

Refreshments served after the ceremony. Tours of the historic cemetery available.


Co-sponsored by the General Meade Society of Philadelphia; Friends of Laurel Hill; American Legion Post #405; Post #1 Society, Union League; Anna M. Ross Camp #1, Sons of Union Veterans. For information, call: 215-228-8200