Gettysburg Battlefield Preservation Association
Founded, 1959 -- The nation's oldest battlefield preservation organization
P.O. Box 4087, Gettysburg, PA 17325

Annual dinner to salute the legacy of James Getty
`           October 26, 2015 – For nearly 40 years, no visit to Gettysburg was really complete without witnessing James Getty's portrayal of Abraham Lincoln delivering the Gettysburg Address. Getty was dedicated to presenting the speech, and Lincoln in general, as faithful to historical accounts as possible.
Getty's portrayal of the Lincoln legacy came to an end with his passing in September following an extended illness.
The overwhelming turnout at his memorial service and funeral were testimony to how engrained his Lincoln portrayal was to the Gettysburg community, historians and Civil War enthusiasts.
The legacy of James Getty will be the prime focus of the annual Gettysburg Battlefield Preservation Association dinner on November 20 at the Dobbin House Tavern in Gettysburg.
State Rep. Harry Readshaw, D-Allegheny, will make a special presentation to the family of James Getty in his memory. Readshaw is the founder of the Pennsylvania Gettysburg Monuments Project, of which Getty was a prominent supporter.
"James Getty's contribution to Gettysburg did not end with his death," said Readshaw. "He set the standard for the formula living history impersonators must follow to present an accurate and effective portrayal of Abraham Lincoln."
The GBPA event on Nov. 20 will begin with a cash bar at 6 p.m. followed by dinner at 6:45. The program will start at 7:45 p.m.
Additional portions of the program will include Craig Caba, former GBPA President and the last surviving charter member, speaking about the 50th anniversary (Nov. 19, 1965) of the dedication of the GBPA monument in the Gettysburg National Military Park, citing the organization's role in preserving vital portions of the battlefield.
And board of trustees' member Larry Keener-Farley will highlight the 150th anniversary of the closing of Camp Curtin in Harrisburg, the Union Army's largest training facility for soldiers.
A silent auction also will be held.
Tickets for the GBPA dinner are $35 per person, or $60 for a couple.  Reservations can be made by calling Barb Mowery at (717) 891-6369 or by e-mail at This email address is being protected from spambots. You need JavaScript enabled to view it..
The GBPA has a website at www.gbpa.org.      
###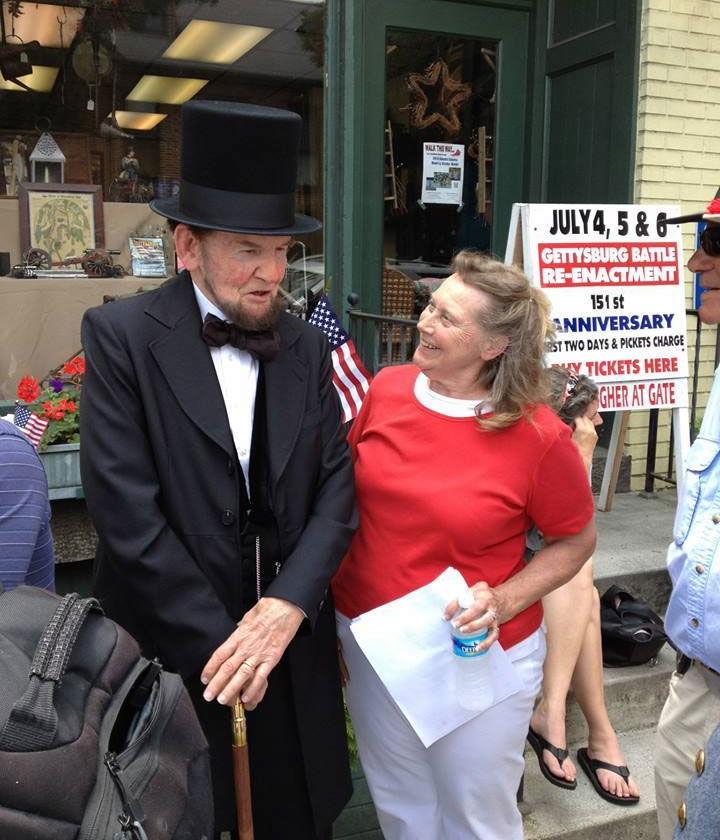 Photo caption: James Getty and GBPA President Barb Mowery in July 2013 at the opening of the GBPA
headquarters at 33 York Street in Gettysburg.
Contact: Barb Mowery at (717) 891-6369    
Email: This email address is being protected from spambots. You need JavaScript enabled to view it.
The Gettysburg Battlefield Preservation Association is a 501c3 nonprofit organization under the Internal Revenue Code and is registered as a charitable organization with the Pennsylvania Department of State, Bureau of Corporations and Charitable Organizations.   Contributions are tax deductible.