CAMP NELSON COMMEMORATES 150th ANNIVERSARY
OF THE EMANCIPATION OF AFRICAN AMERICAN REFUGEES
FOLLOWING US CONGRESSIONAL ACT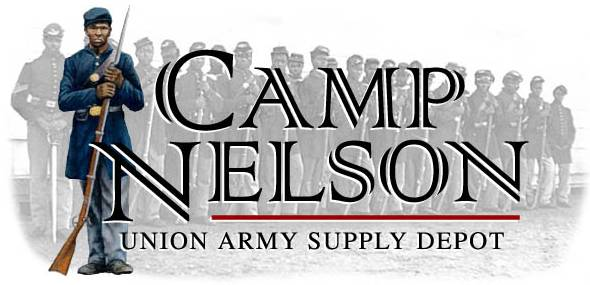 As a directive from President Abraham Lincoln, Camp Nelson was established as a supply depot, recruitment center, and hospital facility.  However, Camp Nelson is most significant as the nation's third largest recruitment and training center for African American troops with 10,000 enlisting at the Camp starting in 1864.   Camp Nelson was recognized as the "birthplace of liberty" not only to the African American troops but also to the thousands of wives and children who accompanied the men, sometimes following threats and beatings by their owners.  The men were emancipated upon enlistment; however, the women and children were not and came with the intent of escaping slavery.  After several ejections from the camp, with the final in November 1864 resulting in 102 refugee deaths, the army's policy was amended and the refugees resettled.  The ejection and resulting deaths led to the Congressional Act of 1865 which freed the women and children of the U. S. Troops.  This act continued and accelerated the destruction of slavery in Kentucky. 

The commemorative event starts at 9 AM Saturday and Sunday, September 12-13, with cannon firing, posting of colors and reading of orders to muster in the US Colored Troops.  Reenactors from several states will converge on Camp Nelson to reenact life as it was at the original 4,000 acre site from 1863-1866.  Visitors will learn what life was like at this nationally significant site through living history presentations and experiences; demonstrations; music; tours; archaeology; and interpretive trails.  Military reenactors will perform infantry, cavalry and artillery demonstrations with cannon firing throughout both days.  Camps will dot the rural landscape detailing the life of the soldier and the civilians such as the Soldiers Aide Society, Refugees and sutlers who helped maintain the site. 
First person interpretations of soldiers and civilians will bring the experience to life.  You can meet President Abraham Lincoln and Mary Todd Lincoln, portrayed by Larry and Mary Elliott along with Frederick Douglass, portrayed by Michael Crutcher, who will present both days. Pat Tyson, Female Reenactor of Distinction, will portray Belle Mitchell and Yulanda Mitchell, Female Reenactor of Distinction, will provide a period school presentation.
A Kentucky Chautauqua presentation will be held on Saturday. The Rev. John G. Fee: Abolitionist…Amen! will be presented by Obadiah Ewing-Roush at 1 PM.  Fee's anti-slavery efforts led him to Camp Nelson and to the establishment of Berea College.  Kentucky Chautauqua is an exclusive presentation of the Kentucky Humanities Council, a non-profit corporation affiliated with the National Endowment for the Humanities.
Children can sign-up for the School of the Soldier at 11 AM on both days.  The school will train the "recruits," performing drills in the infantry and artillery camps.  At 2 PM on both days, a reenactment of a skirmish based on actual events around Camp Nelson dealing with John Hunt Morgan's retreat from Cynthiana, KY will be portrayed.  

In addition to the re-enacting, visitors can participate in an archaeological dig at 3 PM on Saturday and 12 Noon on Sunday led by Dr. Stephen McBride, Director of Archaeology and Interpretation for Camp Nelson.  Civil War artifacts uncovered from the site will be on display along with museum exhibits depicting life at Camp Nelson. 

The site will also be alive with music.   Kentucky musicians Greg Breeding, Kristi Miller, Skeets Pennigton , and Dave Cottrell will play instruments of the period--the fiddle, banjo, accordion and mandolin--throughout both days.
 


Tours will be provided both days of Camp Nelson's restored "White House" which served as the Officer's Quarters and is interpreted as the military usage and as the family used it before and after the war.  The barracks replica will also be available for tours as well as the newly-equipped genealogical research library located in the same building. 

A special guided walking tour of a section of the northern line of fortification will be available at 12:30 PM Saturday and 3 PM Sunday. 

A Civil War period church service will take place on the grounds Sunday morning at 10 AM.  The service is open to the public.  An evening artillery demonstration with cannon firing presented by the 12th Reactivated U.S. Colored Heavy Artillery will be held Saturday evening at 8 PM.

The Camp Nelson Education & Preservation Foundation along with the Jessamine County Fiscal Court sponsors the annual Camp Nelson Civil War Days Living History.  The event is held on the grounds of the best preserved Union Army supply depot and African American recruitment site in the nation--the 626-acre Camp Nelson Civil War Heritage Park--which is a designated National Historic Landmark, National Underground Network to Freedom site, Lincoln National Heritage Trail site and an Official US Colored Troops Living History Association site.

Camp Nelson Civil War Heritage Park is a cooperative public-private effort to preserve the historic resources and integrity of Camp Nelson, to restore and develop this nationally significant site for educational purposes, and to encourage heritage tourism. 

Camp Nelson is located six miles south of Nicholasville on US 27.  A parking fee of $5 per person for the entire event is charged—no charge for children 12 and under. For further event or general information call 859-492-3115 or 859-881-5716.  Visit the website at www.campnelson.org.