PENNSYLVANIA ABRAHAM LINCOLN BICENTENNIAL COMMISSION (PA ALBC)

The Civil War Institute at Gettysburg College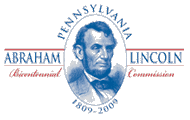 300 N. Washington Street - Gettysburg, PA 17325
Phone (717) 337-6608 - Fax (717) 337-6596
 February 8, 2010
 
Lincoln's Birthday Open House at the Historic Gettysburg Railroad Station and  Mr. Lincoln's Trail: a Walking Tour 
The Gettysburg Address


The Historic Gettysburg Railroad Station will host an Open House on Friday, February 12th in honor of Abraham Lincoln's birthday. Light refreshments will be served. The Gettysburg Address is recognized not only as one of Lincoln's greatest speeches but as one of the great pieces of rhetoric in the English language.
 
President Lincoln arrived in Gettysburg on November 18, 1863 at the Historic Gettysburg Railroad Station and walked the short distance to the house of David Wills where he stayed the evening before delivering the Address at ceremonies dedicating the Soldiers' National Cemetery.
 
Visitors to Gettysburg can now walk in Lincoln's footsteps using Mr. Lincoln's Trail: A Walking Tour a brochure authored by Dr. Brad Hoch, Advisor to the Chair of the Pennsylvania Abraham Lincoln Bicentennial Commission.
 
The brochure is available at the Gettysburg Visitor's Center, The Gettysburg Convention and Visitor's Bureau, the David Wills House and the Historic Gettysburg Train Station. The brochure is also available online.
 
A video about the Historic Gettysburg Railroad Station, produced by the PA ALBC and narrated by Dr. Hoch, is available for viewing here.