Grisham/Donaldson Debut Novel

The newest Grisham novel is set for release, but this time it's not John Grisham, it's his brother Mark! Partnered with David Donaldson Ph.D., they have co-authored the novel Bedlam South, an exclusive Borders Book Stores offering, where the Civil War comes alive in a rich tapestry colored with tales of tragedy, romance, and redemption.

Set in the heart of the Confederacy, Bedlam South is the story of ordinary people who fought and suffered, and loved and lost during the war. The novel centers on an insane asylum just outside of Richmond, Virginia, as it interweaves the fates of its characters in a panoramic view of the times.

Grisham said, "Over the years, I have been asked countless times 'why don't you write a book?' I guess this is a natural response to having a world famous author for a big brother."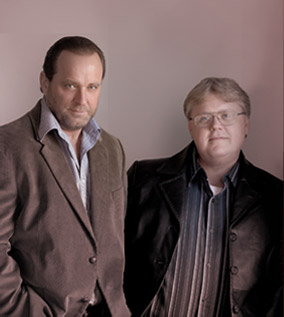 Longtime friends, Mark and David began writing together three years ago, after Mark returned home to Northwest Mississippi. Mark's love of the Civil War and southern history, combined with David's interests in psychology and mental health, led them to write this unique and intriguing story that provides a glimpse into a rarely discussed aspect of the war. The psychological trauma suffered by battlefield veterans.
"The most fascinating part of the process for me was developing the characters. Getting inside their heads and exposing their inner conflict," Donaldson said. "Mark is the most knowledgeable person I know when it comes to this era in history. So I spent months researching the psychiatric treatment methods of the period because we wanted to provide a fictional work that was also historically accurate."

Another unusual aspect of the writing team is their commitment to needy children. "From the beginning," Donaldson added. "Mark and I agreed a portion of the proceeds from the book would go to Impact Missions (impactms.org), a northwest Mississippi charity."             
Bedlam South represents the first of three completed novels by the duo and it is now on sale nationwide  at all Borders and Walden's Book Stores but supplies are limited. Order Online now, to ensure you receive a copy!
To contact the authors, call 662-342-0155, or write to LongShot Productions, LLC, P.O. Box 468, Nesbit, MS 38651. Visit them at: www.bedlamsouth.com. And you can purchase a signed, personalized copy from the authors themselves.