The fierce and storied battles of the War Between the States have left an indelible mark on the landscape of American history. From April 12, 1861 to April 9, 1865 the Confederate States of America (the Confederacy) fought against the U.S. Federal Government (the Union) in a series of clashes still commemorated today.
Especially in the South, the ancestors of those who fought in the Civil War hold a certain reverence and esteem for their forefathers who led the charge. Hailing leaders such as Robert E. Lee, Stonewall Jackson and Jeb Stewart, their heritage is celebrated with the enthusiastic call of "Southern Pride." Scouring all of history for every available detail chronicling these legendary battles, Civil War enthusiasts' unfailing interest has created a fervent demand for authentic memorabilia and high quality collectibles.  
Collectibles Today, an industry leader since 1973, is proud to offer a wide selection of unique Civil War collectibles and gifts for those with a passion for history. From fine men's jewelry and apparel to heirloom-quality electric trains, shot glasses, belt buckles and more, the sights and sounds of the Confederacy come to life once more through the superb artistry and craftsmanship that Collectibles Today is known for.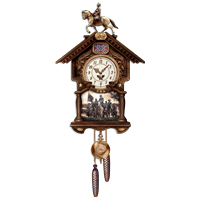 Imagine the salute of the Hour of Glory Cuckoo Clock Decorated with stunning imagery from noted Civil War artist John Paul Strain, this handcrafted collectible wooden clock is a constant reminder of the enduring pride of the South. The clock's dramatic artwork captures General Robert E. Lee as he leads his men into battle, and is accented by a sculptural figure of General Lee on horseback. Every hour is announced when miniature doors, bearing the Confederate flag, swing open and a handcrafted cannon commences with a volley of cannon fire. This first-ever Civil War clock makes sure it stays Dixie Time all the time.
Take a historic journey back to America's South with a collectible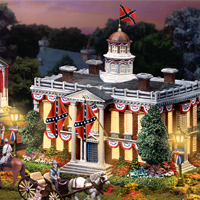 Civil War era decorative village. With handcrafted and hand-painted buildings, and figurines of important personalities from the war, this realistic home decor lets you relive the gallantry of a long-ago time. Imagine gathering in the town square to exchange news of the Cause, or watching the dashing General Robert E. Lee ride by on his stallion Traveler. Rich with historically accurate touches, this collectible illuminated village is a grand way to honor the boys in gray.
Hold history in your hand when you wear this Civil War men's ring, crafted of solid sterling silver. It bears the Confederate flag and shield against an inlay of black onyx, and is engraved with the sentiment "Pride of the South." The sides of this handsome ring feature cherished icons in raised relief detail, including crossed swords and crossed rifles with the Confederate hat and C.S.A. insignia. What a bold memorial to those who fought for the South during this crucial moment in American history. 
Remember the Confederacy when you shop at Collectibles Today - your destination for Civil War collectibles and gifts. Shop Now!