Railroad Historic Link To Civil War
Highlighted At EnterTRAINment Junction
In Cincinnati
If you are a Civil War buff, there is a "must-see" attraction awaiting you in Cincinnati, Ohio.  It's called EnterTRAINment Junction, which opened in August 2008, and shortly thereafter was voted Ohio's Best Family Entertainment Center.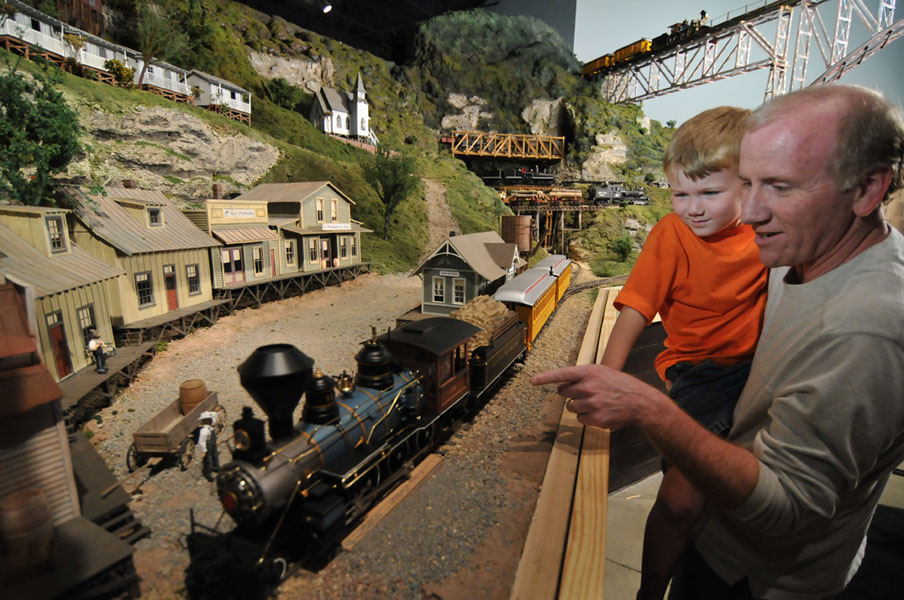 EnterTRAINment Junction is the only train-themed family entertainment center in the world, and includes not only the world's largest indoor model train display, but also the giant Imagination Junction interactive play area, the American Railroading Museum, and Expo Center and the Funhouse Junction reminiscent of an old-time amusement park funhouse.
The world's largest indoor model train display is incredible -- 90 large, G-scale trains are running everywhere, immersing visitors in a 25,000 square-foot environment. More than two miles of track take visitors on a panoramic journey through three distinct epochs in U.S. history, from the earliest days of steam-engine railroading up through today's modern diesel locomotives. The layout includes railroading's Early Period (1850s through the Civil War to late 1890s), the Middle Period (1900 to 1950s) and the Modern Period (1960s to the present.)
Just inside the entrance to the Early Period, visitors are greeted by an entire authentic Civil War encampment spread across the hills and valleys of a true-to-life layout. The Union soldier encampment includes soldiers, tents, supplies, campfires, flowing waters and even a bridge that has been burned down by Confederate soldiers then rebuilt by Union soldiers, There is also an interactive button visitors can push to make reveille sound throughout the encampment.
Additional Civil War information is prevalent in EnterTRAINment Junction's American Railroading Museum, a 5,000 square foot imaginative and interactive museum that explores what railroading has meant to the history and development of the U.S.
"There is no question that the history of railroading is linked to the history of America itself, and that railroading engendered a major part of this country's growth," says Don Oeters, founder and CEO of EnterTRAINment Junction. "The railroad was of paramount importance in the Civil War by being able to transport men, supplies, food and artillery, especially for the North. I believe any Civil War aficionado is going to really enjoy the vital link between railroading and the Civil War that we have created here."
EnterTRAINment Junction is open 10 a.m.-6 p.m. every day except Sunday, when hours are noon-6 p.m. (Closed Easter Day, Thanksgiving Day, Christmas Day and Wednesdays January through April.)
Located at 7379 Squire Court in suburban West Chester, off I-75 (25 minutes north of downtown at the Tylersville Rd. exit (#22). 12 minutes due west of Kings Island
FOR MORE INFORMATION:
(513) 898-8000
(877) 898-4656
www.entertrainmentjunction.com