New York City Civil War Round Table Presents The Fletcher Pratt Award For 2008 To Joseph T. Glatthaar For His Book "General Lee's Army: From Victory to Collapse"

On May 13, 2009, the Civil War Round Table of New York, in its 58th year of continuous operation, presented the restigious FLETCHER PRATT AWARD to Dr. Joseph T. Glatthaar.

The Fletcher Pratt Award was presented by Bud Livingston, Past President of the CWRT of New York and Chairman of the Awards Committee, at the Round Table's 530st meeting to Dr. Glatthaar for his book, General Lee's Army: From Victory to Collapse.

The FLETCHER PRATT AWARD was established in 1956.  Fletcher Pratt, one of the founding fathers of the Civil War Round Table of New York, was a prolific writer.  He authored 16 books, including six on the American Civil War. At a meeting of the board of directors held on June 19, 1956, James D. Horan proposed that a Fletcher Pratt Award be established as a memorial to a distinguished charter member and former president (1953-54).  Unanimously approved as proposed, the award, in the form of an appropriate scroll, is presented to the author or editor of the best non-fiction book on the Civil War published during the course of a calendar year.    Previous winners have included such Civil War luminaries as Bruce Catton, Burke Davis, Shelby Foote, William C. Davis, William McFeely, Stephen Sears, James Robertson, Noah Trudeau, Gary Gallagher, and Gordon Rhea, just to name a few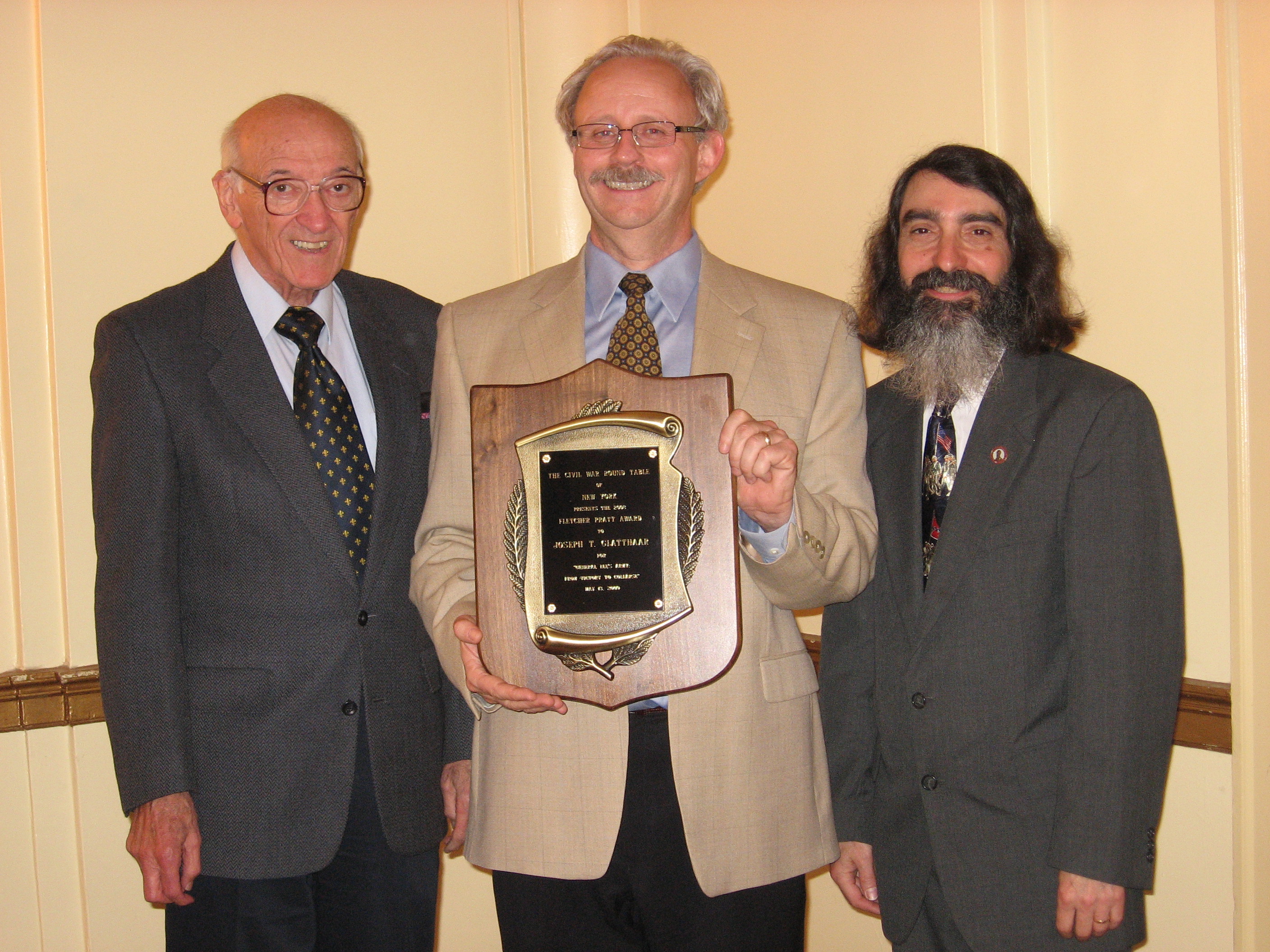 .
Dr. Joseph T. Glatthaar is the author of numerous books and articles, including a previous Fletcher Pratt prize
winning book in 1985, The March To The Sea And Beyond.  Currently the Stephenson Distinguished Professor of history and chair of the Curriculum in Peace, War and Defense at the University of North Carolina at Chapel Hill, Dr. Glatthaar received a B.A. from Ohio Wesleyan University, an M.A. from Rice University and a Ph.D. in history from the University of Wisconsin.  He has also taught at the U.S. Army Command and General Staff College, the U.S. Army War College, the U.S. Military Academy, and the University of Houston.
Founded in 1951, The Civil War Round Table of New York generally meets the second Wednesday of the month from September to June. Members assist each other with research, discuss preservation strategy for endangered battlefields, and listen to a distinguished speaker talk about a particular aspect of the war. For the year 2008/2009, the meeting location will be the 3 West Club, 3 West 51st Street in Manhattan.
For more information on the Civil War Round Table of New York, please contact The Civil War Round Table of New York at our mailing address: 139-33 250 th Street, Rosedale, New York 11422.  Or, if you prefer, call 718-341-9811, or email us at This email address is being protected from spambots. You need JavaScript enabled to view it..  Check out our website at www.cwrtnyc.org.