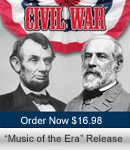 The 1860's was one of the most musical decades in American history, and in no other war than the Civil War did music play such an important role among the soldiers. Robert E. Lee wrote in 1864, "I don't believe we can have an army without music."
The information in this section will bring you closer to the people of the Civil War as you explore the thoughts and emotions of the soldiers and the people who waited for their return. In addition to listening to selected samples you can discover the background of each song, read along with the lyrics, and order CD's by Douglas Jimerson --recognized as one of the leading authorities on the evolution of American vocal music.
It was the greatest war in American history.
3 million fought - 600,000 died.
It was the only war fought on American soil by Americans, and for that reason we have always been fascinated with The Civil War.
The purpose of our site is to bring history students, educators and Civil War enthusiasts the very best and most comprehensive information available regarding this American conflict, including its causes and effects. To that end, we have recently enhanced this site to add content more quickly and to dramatically increase the speed with which information is returned to you. We have also added a new Civil War forum (see link below), via which you can exchange your ideas and opinions regarding this critical part of American History with your peers.
Welcome to Civilwar.com ...
Hundreds of books, movies and documentaries have (and are) being created about this war. With the advent of the internet, we now have yet another tool to study every single event in this great period of American history.

We are in the process of enhancing our search engine, adding content and working on dynamic ways to bring you the information you need about the American Civil War.

Check back soon for additions and changes.