Own America's Greatest Collector's Set of War Books: Dual Autographed by Gen. Harold Moore & Joe Galloway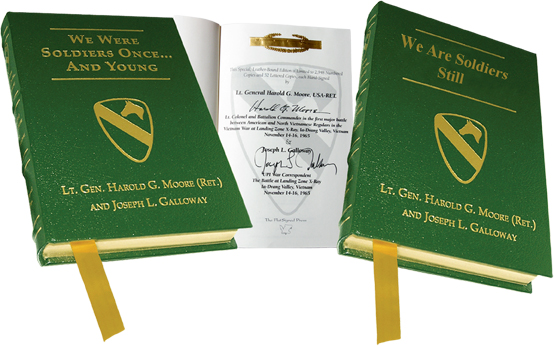 For over 10 years,
FlatSigned
has been offering collectors rare autographs on the pages of rare books—including American presidents, world leaders, notable authors, and celebrities. Now, FlatSigned is proud to introduce a new limited-edition hand-signed commemorative set of Vietnam War books by Lt. General Hal G. Moore and Joseph L. Galloway.
Each copy of this matching set is bound in 100% leather and features gilt page edges, silk moiré end sheets, thread-sewn pages, a satin ribbon marker, and a certificate of authentication with a lifetime guarantee.
The books are dedicated to those brave souls who served the United States of America and her citizens during the Vietnam War and especially those who gave their last full measure for their country and their comrades.
"We Were Soldiers" covers the minute by minute account of the first major battle of the Vietnam War, which lasted over a decade and tore the country apart. It has been described as a powerful and epic story, the best account of infantry combat ever written, and the most significant book to come out of the Vietnam War.
"We Are Soldiers Still" tells you how that history changed the authors, the men involved, and our country, forever. This book answers many of the questions that readers have posed to Hal in the 15 years since his first book and recounts a very unique journey back to the battlefields of Vietnam by the commanders and the veterans on both sides. 
This incredible set of books is a must-have for collectors, veterans, soldiers, or anyone interested in owning a unique piece of history. To order a copy of this leather bound collector's set, visit FlatSigned's website at http://flatsigned.com/HalJoe.shtml or contact FlatSigned at 1-866-352-8744. To view their entire collection, visit the web site at http://www.FlatSigned.com.