1842 Civil War Restored Vintage Brick Farm House
15 minutes from Gettysburg – low property tax district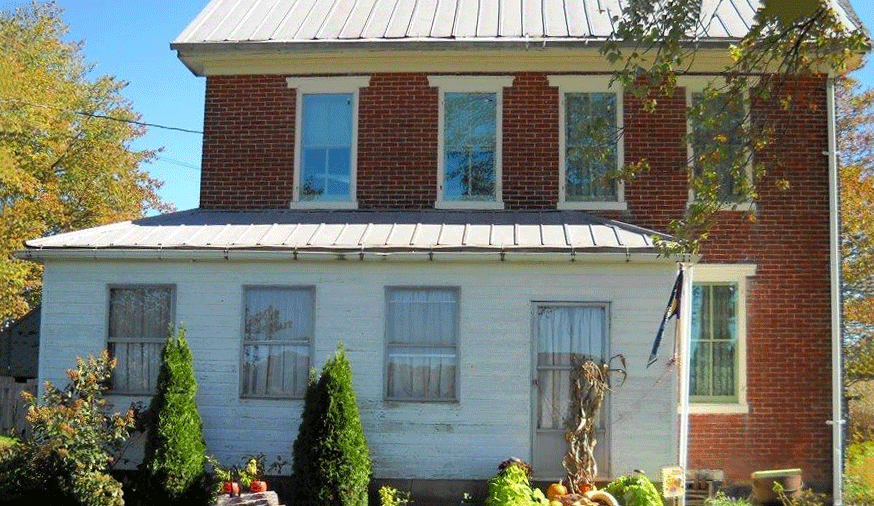 Just 15 minutes from Gettysburg, the beautiful four story (counting a full attic and concreted basement) Victoria triple brick home of over 2,140 square feet, sits on 29 plus attractive acres in northern Adams County. Rented fields provide income that covers all of the taxes, all for less than $525,000. This is a private sale so no real estate commissions.
When purchased in 1980, the house had been empty for two years. It was dated with the 1930-1970's era from the wallpaper to the 'linoleum carpets' that were used in bedrooms and painted around the outside to create the look of total carpet, Youngstown metal kitchen cabinets, linoleum individual floor tiles and no appliances.
We were lucky that the house had four bedrooms, one small room large enough to hold a desk, and an enclosed porch with no installation that had been a balcony. We made three bedrooms, an oak den and turned the enclosed porch into a bathroom with custom cherry cabinets and put a mirror over the vanity in what was a window on the back external balcony brick wall.
Downstairs there were four rooms, a bath (now a ½ bath) and an attached summer kitchen with a walk-in fireplace with a rotted floor that had been used for storage. Fortunately, with careful restoration, we have all original heart of pine floors in all of the bedrooms and parlor, 97% of original woodwork, and original stenciling in the parlor. The one room had oak flooring installed in 1955, so when we moved the kitchen to the north (barn) side and turned the former kitchen into the dining room, we matched the old kitchen floor to the new kitchen. We replaced the summer kitchen flooring with original wide planks from the attic. There is a bake oven door in the walk-in fireplace and an outline of the beehive oven on the exterior wall.

There are three additional rooms, a 'sewing' room with a full wall cedar-lined closet and another whole wall double-door closet for storage in the attic; the summer kitchen has a finished loft with the original floor that was used for the children' playroom; and the 903 square foot basement has a craft room with two pegboard walls for hanging flower arrangements., etc.
Please call (717) 891-6369 or (717) 528-8505 for more information. Please leave name, phone number and reason for the call for a return call.